Paycom Center Information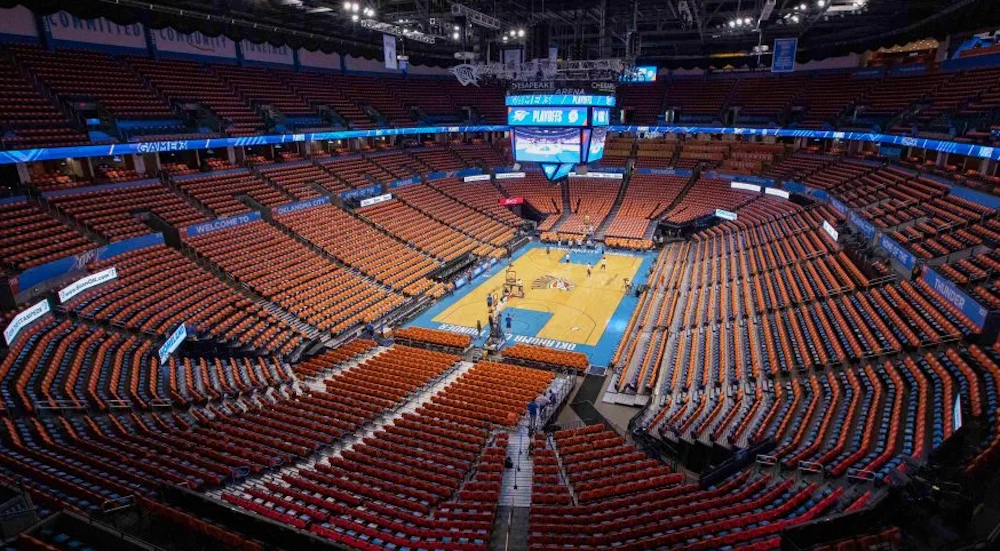 Chesapeake Energy Arena, originally known as the Ford Center, is an arena located in Oklahoma City. It opened in 2002 and has served as the home venue for the NBA's Oklahoma City Thunder since 2008. Before then, the arena was home to the Oklahoma City Blazers of the CHL until the team folded in 2009 and the Oklahoma City Yard Dawgs of the AF2 from 2004 to 2009. The venue was also the temporary home for the New Orleans Hornets after Hurricane Katrina forced the team to play in outside venues from 2005 to 2007, which led to a lot of talk from fans about the city claiming an NBA team as relocation or expansion.
While the arena is best known for the high-energy sporting events it hosts, it has also become known as a fine Oklahoma venue for major concerts, social events, conventions, ice shows, and civic events for the local community. The arena is owned by the city, with naming rights most recently sold to the Chesapeake Energy Corporation.
Historically, the arena was a major part of Oklahoma City's 1993 Capital Improvement Program, which financed new and upgraded sports, entertainment, cultural, and convention facilities across the city with a temporary 1-cent sales tax.
The venue was billed as a state-of-the-art facility but was originally constructed to meet the minimum requirements set forth by the NBA and NHL specifications. This meant the facility lacked a lot of the luxuries that larger arenas were used to since the arena didn't originally have a professional team in residence. But the designers were smart to design it in such a way to allow expansion and buildout amenities if a professional team announced relocation to Oklahoma City.
This foresight led to success when the Seattle SuperSonics were acquired by an Oklahoma-City based group in October 2006, which led to another temporary sales tax to pay for the arena expansions. These expansions included luxury seating areas and a high-quality scoreboard, as well as brand new signs.
The city used the revenue well and built up the Chesapeake Energy Arena to become the state-of-the-art facility that professional venues deserve, which also enticed professional wrestling organizations such as the WWE to come to the arena for some of their live shows.
From a humble plan to revitalize Oklahoma City, the Chesapeake Energy Arena has been born, updated, and strengthened to remain one of the best arenas in the city.
See the below pages for further information on the Chesapeake Energy Arena:
Chesapeake Energy Arena Parking:
Find out more about parking at the Chesapeake Energy Arena and driving information.
Ticket Policies:
Read about the ticket guarantees and authenticity policies when purchasing tickets via this website.
Chesapeake Energy Arena Seating Chart:
View the Chesapeake Energy Arena seating chart and the various seating options.